Skin Care
Whether you want to get expert advice about your skin, home care routine, products or simply want to relax I am here to help.
Most people face their own challenges with their skin whether it be an ongoing concern or something temporary.
I am here to give you professional advice you will benefit from as an individual.
​Everyone is different and we all have different skin types, therefore require different needs.
I will pick the right facial products for you and your needs, as you simply relax and be pampered while your skin reaps the rewards.
| Treatment | Price |
| --- | --- |
| ​Ultimate Facial (incl Bns,scalp & hand massage) - 90min | $110 |
| The Beauty Facial - 60min | $80 |
| Express Facial - 45min | $65 |
| Mini Facial - 30min | $55 |
Please be advised prices may vary and are subject to change.
The Ultimate Facial
Includes a 30 min back,neck,shoulder massage, and The Beauty Facial
The Beauty Facial 
Includes double cleanse, exfoliation, facial & scalp massage, masque, hand massage, tone, moisturize
The Express Facial
Includes double cleanse, exfoliation, masque, mini hand massage, tone, moisturize
The Mini Facial
Includes double cleanse, exfoliation, tone, moisturize
*Sometimes the exfoliation and masque is a two in one step and product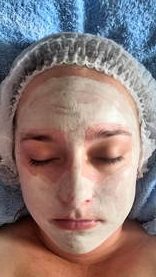 Facial masque on Jade's client